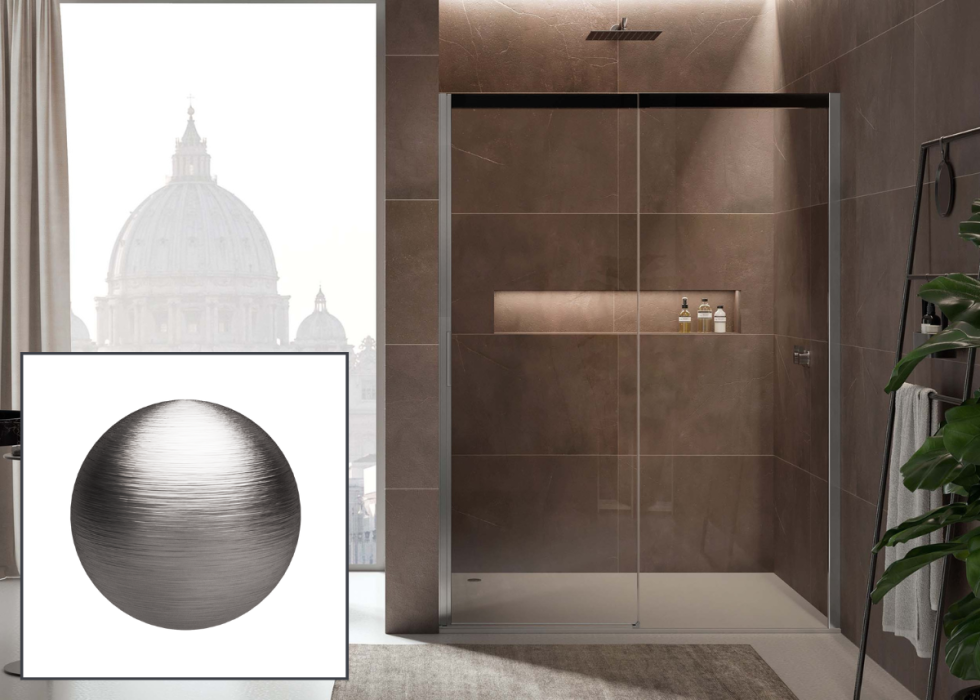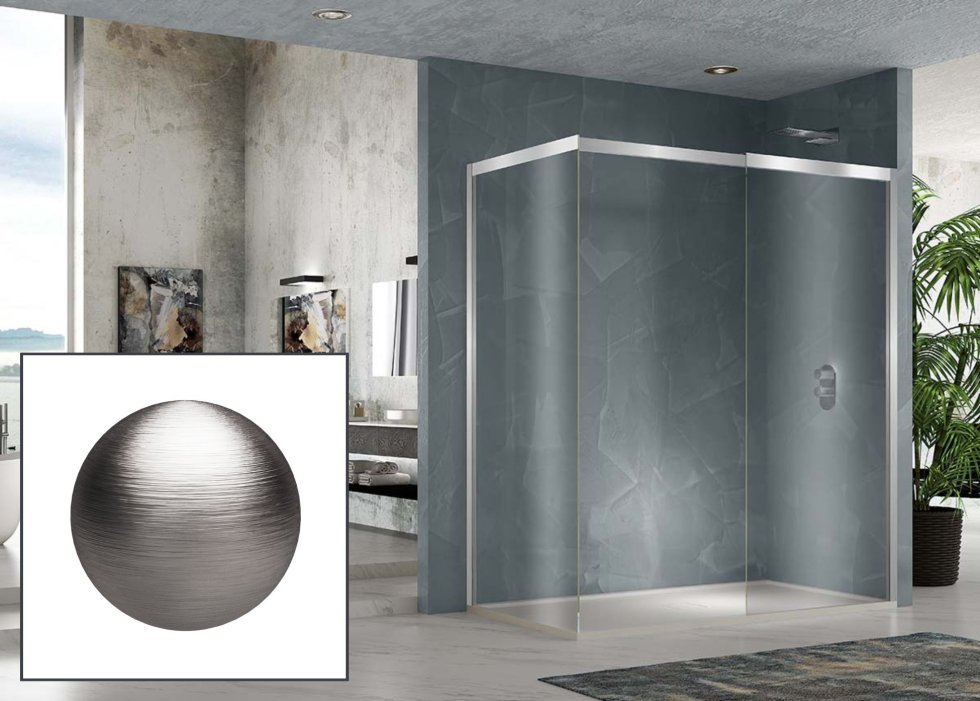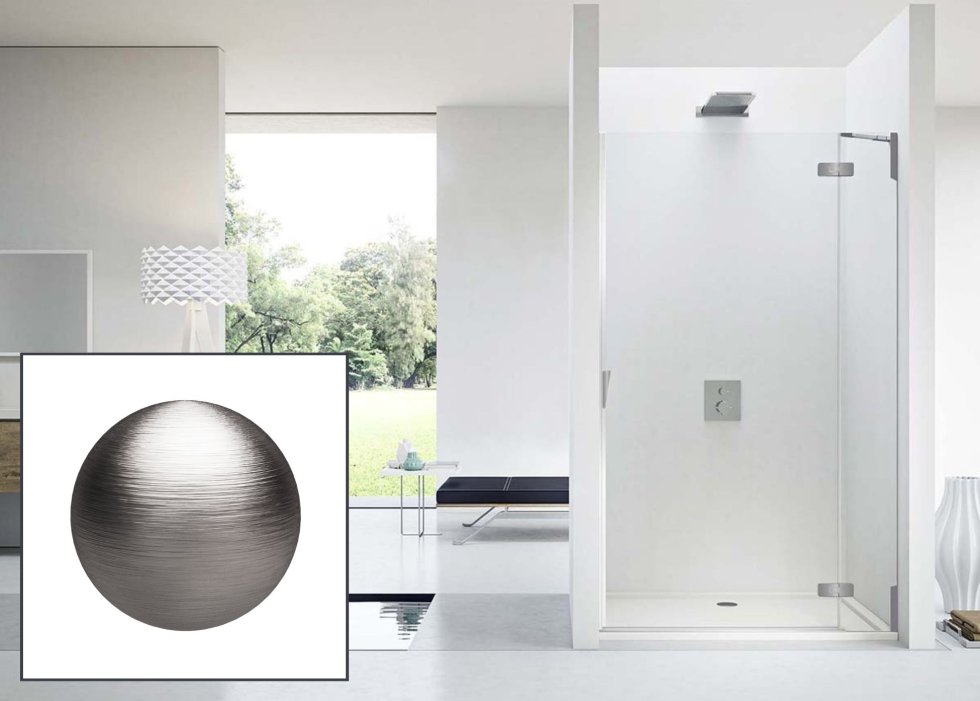 Stainless steel look for the top models
Tue, 11 Apr 2023
If you are looking for a modern look for your bathroom, the stainless steel look finish is the best choice for you. This finish is becoming increasingly popular on the market and it will meet your aesthetic requirements. The typical brushed texture that imperceptibly appears on the surface creates a warm and pleasant effect that contrasts with the transparency and shine of the glass, creating an original yet simple visual effect. Thanks to its simple design, the finish is easy to combine with other colours in the bathroom environment and adds a modern touch to the room.
Our libero 5000 Walk In series, characterised by harmonious shapes and attention to detail, is not only available in silver high polish and black, but also in stainless steel look. The innovative libero 5000 Inlab version, which is equipped with a functional sliding door, makes the series extremely versatile and suitable for every room and every interior. Furthermore, with libero 5000 Inlab you can now also use the niches in your bathroom in a functional and elegant way to make your bathroom completely individual, even in complicated architectural situations. With the stainless steel look, the series presents itself in a completely new aesthetic.
The acqua 5000 series brings timeless elegance to your bathroom. The series is also available in stainless steel look, giving it a striking and filigree appearance at the same time. Whit the Automatic Close & Stop system the door moves gently, on the last few centimeters, to the "closed" or "open" position, like a high quality furniture drawer. The stainless steel look underlines the refined technical features of the series and makes it an even more innovative product.
The high-quality swing door pura 5000 in stainless steel look is a real eye-catcher in the bathroom. The stainless steel look works not only for the standard model, but also perfectly matches the ColourArt versions with the new colours brushed copper, brushed brass und brushed black, matt white and matt black. The stainless steel look surface of the profile, the hinges and handles highlights the coloured ColourArt elements and provides an appealing contrast.
High-quality aluminium profiles in stainless steel lookgive the bathroom an exclusive, premium look.
Discover the stainless steel look finish!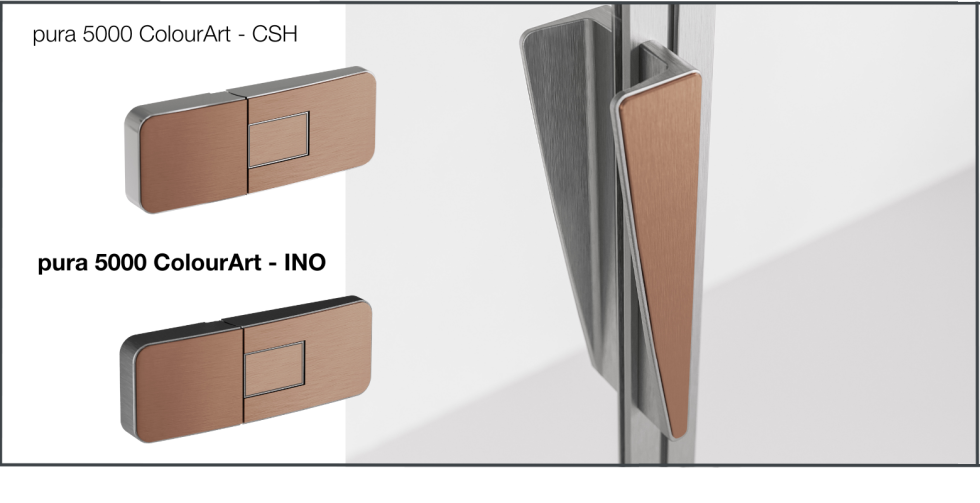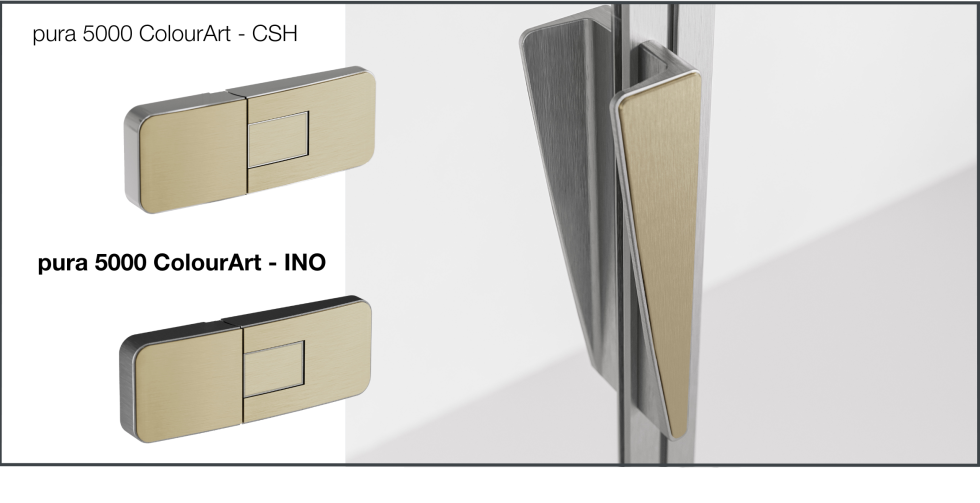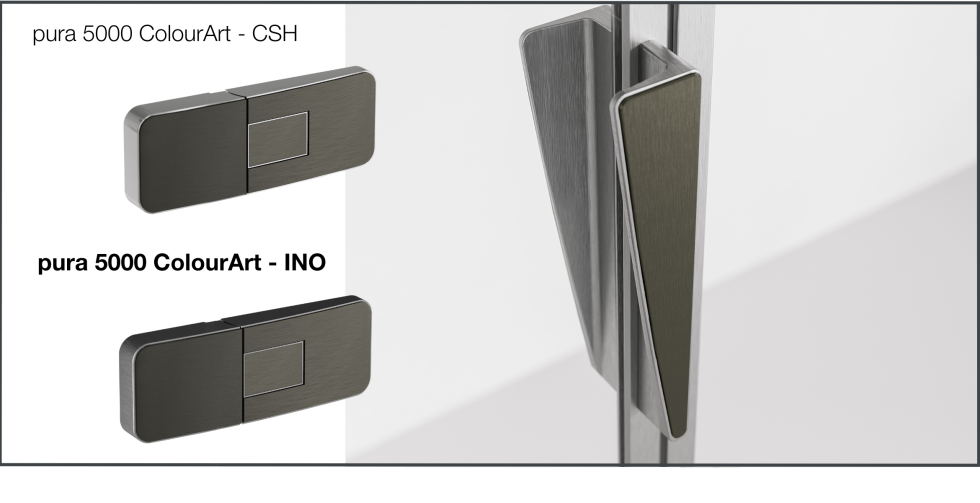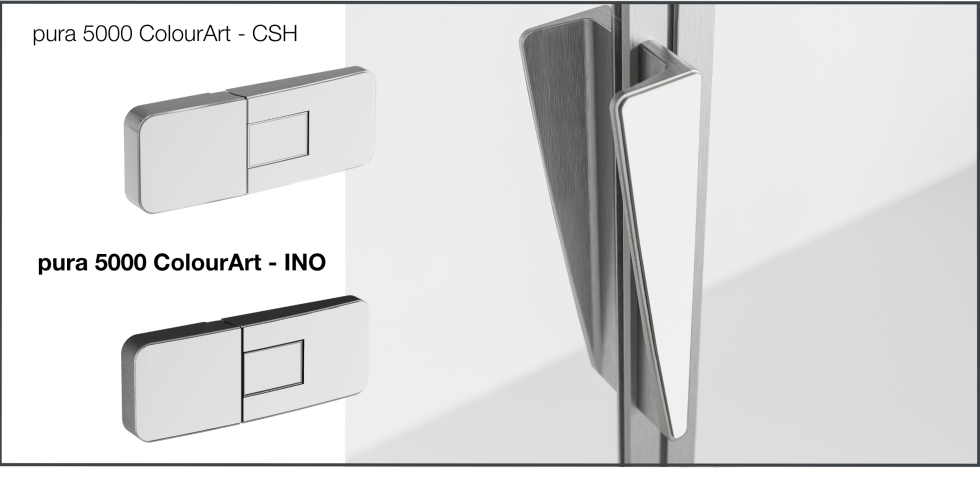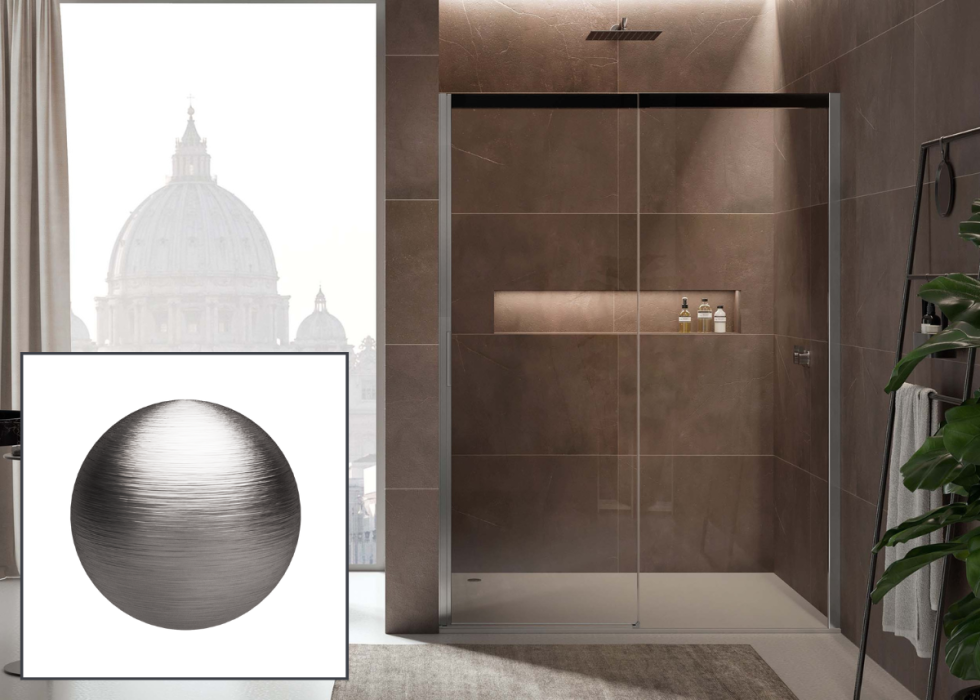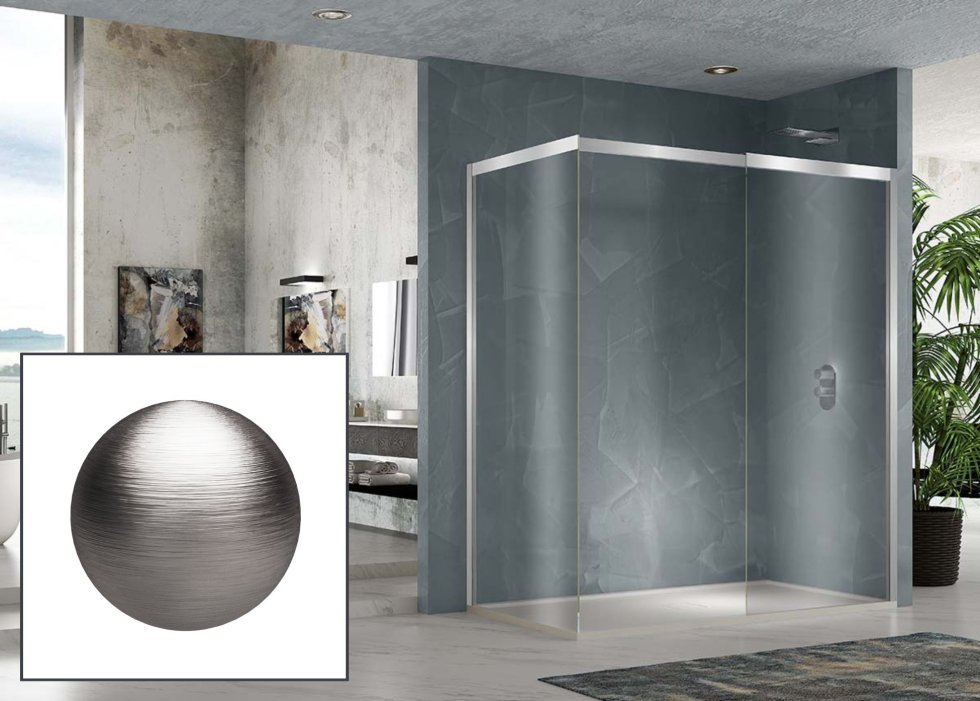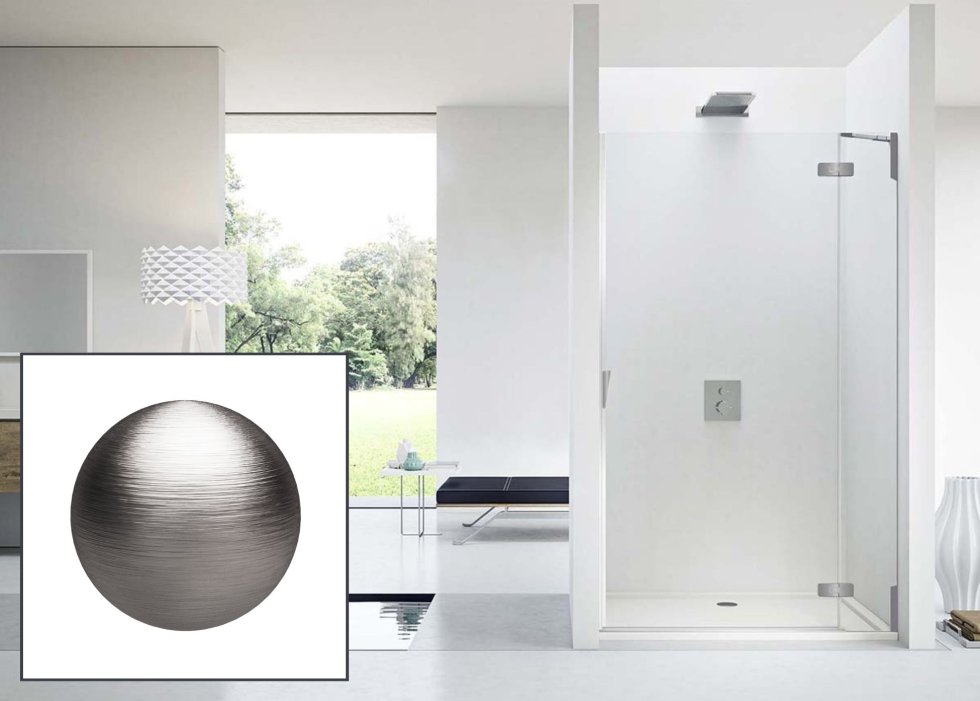 Look acciaio inox per i modelli di alta gamma
Tue, 11 Apr 2023
Se sei alla ricerca di un look moderno per il tuo bagno la finitura in look acciaio inox è la tua scelta migliore. Questa finitura è sempre più popolare sul mercato e soddisferà le tue esigenze estetiche. La tipica testure spazzolata che ne riga impercettibilmente la superficie crea un effetto caldo e piacevole che si contrappone alla trasparenza e la brillantezza del vetro per creare un effetto visivo originale e semplice allo stesso tempo. La sua semplice estetica le permette di essere facilmente abbinata ai colori dello spazio conferendo così un tocco di modernità ad ogni ambiente bagno.
La nostra serie Walk In libero 5000 caratterizzata da forme armoniose e curate nei minimi dettagli è disponibili oltre che nelle finiture argento lucido anche in look acciaio inox. Il design innovativo di libero 5000 Inlab dotata invece di una funzionale porta scorrevole rende la serie estremamente versatile e adatta a qualsiasi spazio e layout. Inoltre, libero 5000 Inlab consente ora di sfruttare anche le nicchie del tuo bagno in modo funzionale ed elegante, per personalizzare completamente il tuo ambiente bagno anche in situazioni architettoniche complicate. Con la finitura inox la serie si presenta in un'estetica completamente nuova.
La serie acqua 5000 con le sue porte scorrevoli aggiunge un'eleganza senza tempo al tuo bagno. La serie è disponibile anche in look acciaio inox per un effetto sorprendente e delicato allo stesso tempo. Il sistema Automatic Close & Stop System integrato nel profilo di scorrimento orizzontale garantisce una superficie esterna uniforme e senza interruzioni. La finitura inox enfatizza ulteriormente le caratteristiche tecniche raffinate della serie per un prodotto di maggiore innovazione.
La serie pura 5000 con le sue porte battenti di alta qualità in look acciaio inox cattura subito lo sguardo nel tuo ambiente bagno. La finitura inox si adatta perfettamente anche a pura 5000 nella versione ColourArt con i nuovi colori metal brushed copper, metal brushed brass, metal brushed black, metal matt black e metal matt white. La finitura in inox del profilo, delle cerniere e delle maniglie crea un contrasto cromatico mettendo così in maggiore luce i dettagli colorati della cabina doccia.
I profili in alluminio di alta qualità in look acciaio inox conferiscono al bagno un aspetto esclusivo e di pregio.
Scopri la finitura in look acciaio inox!