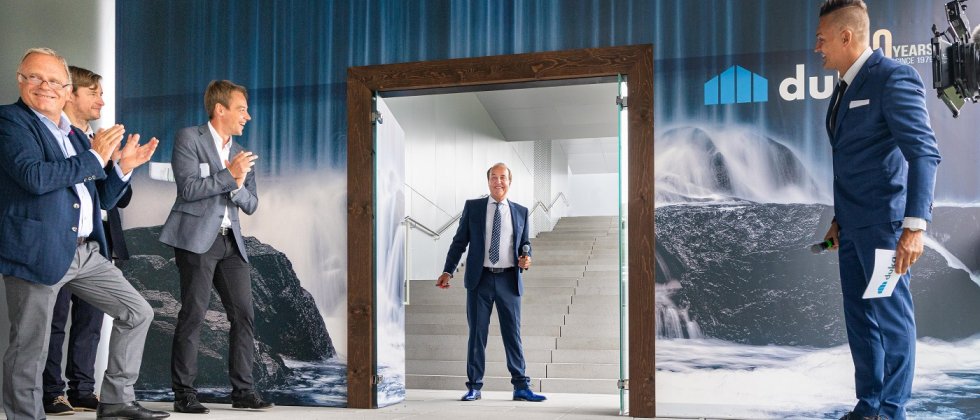 Inauguration ceremony for the new duka 4.0 headquarters
Пт, 23 авг 2019
Great moments, great festivities
In autumn last year duka, the leading manufacturer of shower enclosures, brought its four locations under one roof in the new headquarters close to the Bressanone Sud motorway exit. The new premises were designed to provide outstanding working conditions and to house state-of-the-art Industry 4.0 production facilities.
During the inauguration ceremony, politicians from the city and the region and planners all had the opportunity to take part in a podium discussion. Representatives from local politics and the administrative council of Brixen spoke of the benefits that investments of this nature bring to the local area and the local employment market. 
Sleek, stylish, practical
The project managers, Brixen architects Kerschbaumer and Pichler from the KUP ARCH, studio, illustrated the concept behind the black monolith at the southern end of Brixen to the guests at the event. The architects and builders have created a building which is distinctive in both shape and size and, at the same time, fits seamlessly into the surrounding landscape through its simplicity, elegance and subtle understatement.
The new headquarters also reflect our company philosophy and, with dark metal cladding combined with a light vertical profile, the building in itself is a form of calling card: The lighter features are reminiscent of water droplets rolling from a smooth surface, just like the glass of a duka shower enclosure.
Impressive size, impressed guests 
During the tour of the factory, guests at the inauguration ceremony had the opportunity to see into the very heart of duka before the podium discussion. "duka's integration into the social fabric of Bressanone and the whole of the d'Isarco Valley has always been a matter of great importance to us, and is a part of the DNA of our company," says founder Hans Krapf.