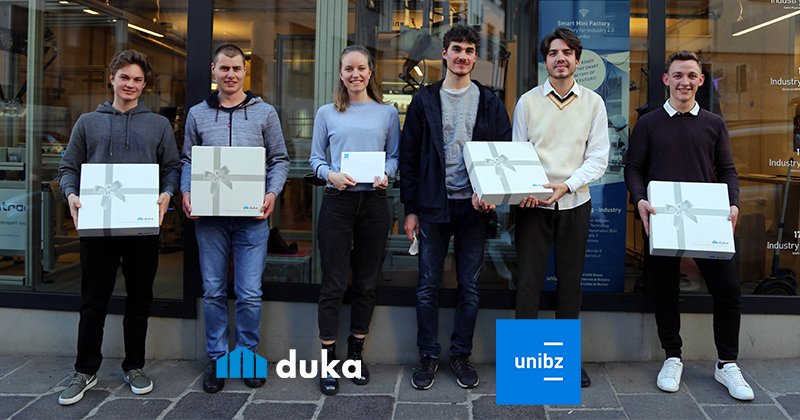 Industry 4.0: the worlds of business and university get together
śro, 15 cze 2022
Duka believes in progress! We have always kept our doors open to innovation and technology. Our company, which is geared towards Industry 4.0, focuses on the flexible automation of production processes, but without neglecting the skills of our employees. Human intelligence works hand in hand with the new artificial intelligence to enable efficient and innovative ways of working.
Industry 4.0 entails a major renewal of production and management systems, where the many processes are automated and large amounts of data are managed by sophisticated software systems. This new approach naturally requires new skills and opens the door to new, highly skilled job profiles with the aim of not only perfectly mastering state-of-the-art technologies and systems, but also continuously developing them.
In our constant quest for innovation and change, the young minds of the Free University of Bozen-Bolzano, with whom we are happy to cooperate, come into play. Together with the Entrepreneurs' Association of South Tyrol, the UniBZ has offered scholarships for 7 students of industrial engineering and mechanical engineering. We are proud to be one of the companies participating in this initiative and offering committed young people a place in our company, for the benefit of both sides.
In doing so, we give the students the opportunity to get to know the working world. They get a broad overview of the various automation and digitalisation processes and exchange their theoretical knowledge with the practical experience of our employees. As a company, we have the opportunity to meet promising and enthusiastic young people who will be future employees in leading companies. We take on board their new ideas and suggestions in the field of digitalisation, which have already broadened our horizons and brought about initial changes.
Just how marvellously the successful collaboration with the UniBZ actually works is reflected in the following project: As part of the lecture "Production Systems and Industrial Logistics", the students work on an "Industry Challenge" under the supervision of Prof. Dominik Matt. In doing so, they apply the theoretical knowledge acquired in the course to work on a concrete problem from industrial practice. For the second year in a row, Duka participated in this great didactic project. Last year, the challenge for the students was to optimise or redesign an assembly and packaging station for particularly bulky shower enclosures for our production. The students worked out concrete suggestions for improvement partly in groups and partly individually, combining methods and techniques they had learned with their own research and enquiries with technology suppliers. These solutions were then implemented by our employees and have significantly improved our production processes.
The world of business and the world of university meet and bring along growth opportunities and insights into new areas for both sides.